Bohol Honeymoon
DISCOVER THE NATURAL BEAUTY OF THe Visayas - PHILIPPINES
Make your dreams come true with an amazing Bohol Honeymoon Package
A Honeymoon in Bohol is an exceptional time for a couple. The newlyweds want to spend time together so that they can relax and make memories. Everyone has a preference when it comes to deciding the destination. Some people plan to head towards the mountains, some prefer going to the urban areas, and some prefer going to places that have beaches. Being close to nature is always rejuvenating for the mind and the soul. You get to relax and get a dose of Mother Nature to unwind.
For people who wish to go to a place that has exotic beaches and astounding seascapes and landscapes, then Bohol, Philippines is the place to be. Bohol is a beautiful place that has exotic beaches with white sand and crystal clear water. The geological formations are sure to swoosh you off your feet. You will remember your Bohol honeymoon forever. It is going to make its impact on your soul so deeply that you would want to come here again.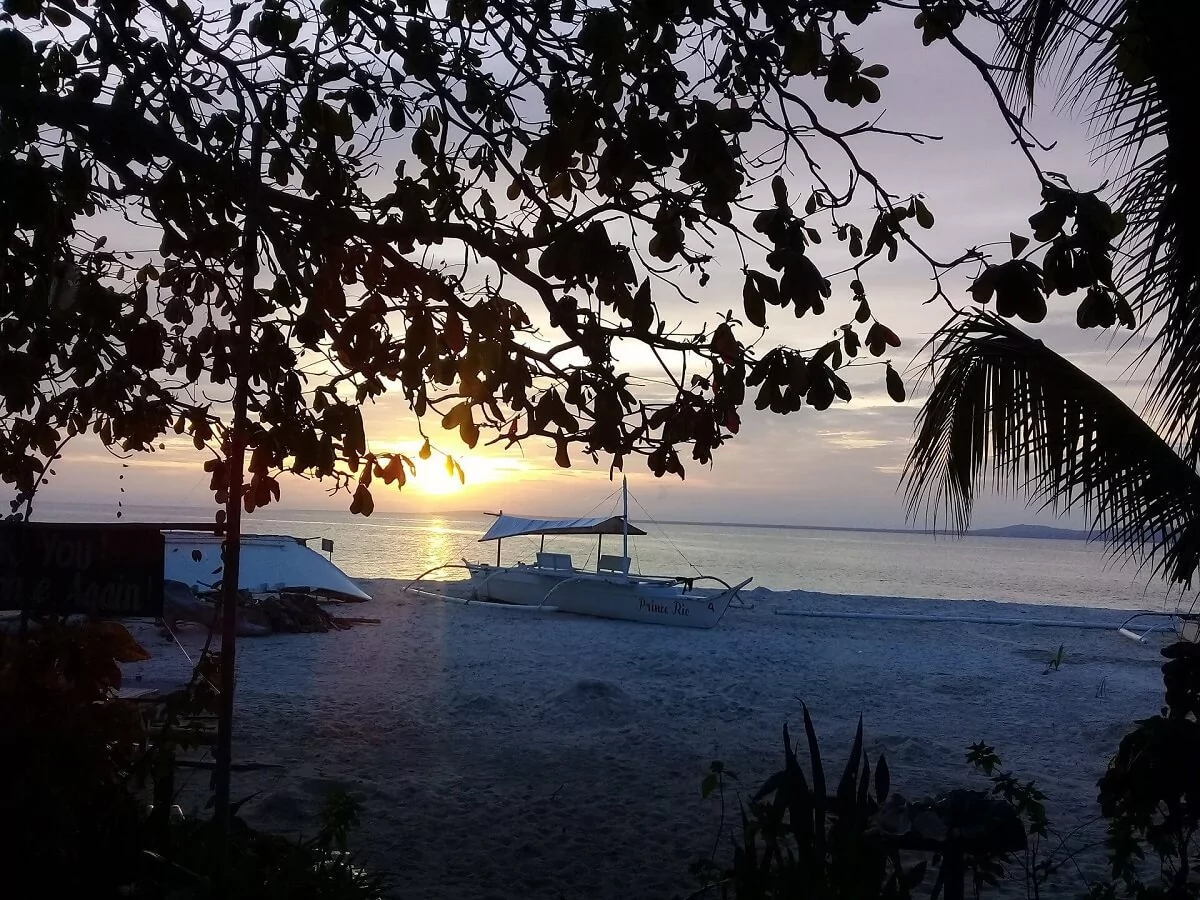 The Philippines have various provinces, and Bohol is one of them. It is situated in the Central Visayas region of the country. Bohol is an island and has further 75 smaller islands that surround it. Bohol happens to be one of the main attractions for tourists in the Philippines. From the gorgeous beaches to the amazing landscapes, Bohol is a place full of wonders. It is so amazingly beautiful that you will enjoy every bit of your Bohol honeymoon.
Bohol is the 10th largest island in the Philippines; hence it is big enough to be explored in a week, especially if you don't want to rush into anything. It is recommended that you take your time to relax and enjoy this place to its fullest instead of rushing to explore it. Even if you don't wish to visit places, you can just lay on the beach if you like.
Discover Your Tailor-Made Luxury Honeymoon
Best time to visit Bohol?
Bohol is a tropical island and has almost the same warm weather throughout the year, with rainy periods between. The ideal time to visit Bohol is from February to September, though it is also popular with visitors throughout the Christmas holidays. Unlike much of the Philippines which experiences its heavy rainy season from June to October, this part of the Visayas still has many sunny days and dry spells between the rains. The temperature moves between 25-30 degrees Celsius, which is ideal for hanging out on the beaches or go for a walk around the town.
Bohol Honeymoon Destinations
The first place to start your Bohol honeymoon is Panglao Island. It is the most famous tourist destination in Bohol. Panglao Island is full of resorts and hotels, and the activities offered at this island make it a hub for tourists. You will get everything at this island, from the perfect sunset spots to swimming with the turtles, and jumping off the cliffs.
The water sports are adventurous, and here will not be a single moment when you feel bored. The resorts are so luxurious that you need some time to enjoy the resorts only. The white sand beaches are so neat, the water is crystal clear, and the whole vibe of this island is purely amazing.
Honeymoon Package
Plan with us your tailor-made dream honeymoon in the Philippines!
Free consultation! 
Anda is on the eastern side of Bohol and has been overshadowed due to the popularity of Panglao on the west. You should add this place to your Bohol honeymoon package as it will make your honeymoon worthwhile. You can laze around on the white sandy beaches and absorb the best of nature's beauty. You can also do some snorkelling or visit various attractions like the nearby Canumantad Falls, Lamanok island, cave pools etc. The beauty of this island is sure to amaze you.
Pamilacan is a beautiful island with white sand and gorgeous blue waters. It is a coral island that has sapphire blue waters surrounding it. This island is a must on your Bohol honeymoon package if you want to have the most calming and relaxing experience.
Pamilacan is known to be famous for its beauty and gorgeous views and the wild dolphins that frolic and feed around it . Your Bohol honeymoon will be incomplete without having this as a destination.
Bohol is full of activities and places that can make your Bohol honeymoon the best experience of your life. We have jotted down the best of Bohol activities in this article to give you an idea about how you enjoy your Bohol honeymoon with your partner.
1. Chocolate Hills
The most popular tourist attraction in Bohol is the Chocolate Hills. It is no less than a wonder of the world. Once you get there, you will get to know why this place is so famous. There are hundreds of symmetrical green hills. These mountainous hills go as far as your eye can reach. The rainy season makes them look lush green.
However, during the dry season, the hills tend to turn brown, looking more like milk chocolate colour. The hills got famous due to their brown colour and got the name "Chocolate Hills". You can often organise a car and driver/ guide to reach this place from your resort. This way, you can enjoy the gorgeous views and the winding roads along the way.
2. Tarsier Sanctuary
Tarsiers are an endangered species of the world that are found in the Philippines. As this species are struggling to survive in the wild on their own, the government of the Philippines has made a sanctuary for them where they are provided with a safe environment and natural habitat to help stay alive. This tour takes only 20 minutes, but you will love to see those tiny creatures with big eyes and long fingers.
3. Balicasag Island
Off the coast of Panglao Island is a small island named Balicasag. This marine sanctuary is a haven for snorkelers and scuba divers as it contains the most exotic marine life, coral reefs, deep waters, and the finest white sand beach. You can enjoy your time there by swimming and by going island hopping. It takes 45 minutes to explore the whole area, but those 45 minutes are going to give you a once-in-a-lifetime experience.
4. Anda Beach
Anda's beaches are dotted with resorts that have been developed recently. Quinale Beach has the cleanest beach with white sand and crystal clear blue waters. What makes it a must on your Bohol honeymoon is that it is unpolluted. It has a typical tropical feel to it because of the coconut palm trees fringed all over the beach. The serenity and tranquillity are what you need after hectic wedding preparations.
5. Mag-Aso Falls
Feast your eyes with these twin falls known as the Mag-Aso falls. The turquoise water of the falls is surrounded by nature's best flora and fauna. It seems like a piece of paradise left on the planet earth for the people to devour. It has a very calming vibe to it, which is a must needed thing when you wish to run away from the hustle-bustle of life. Make sure this is added to your Bohol honeymoon package.
6. Alona Beach
Alona beach happens to be a world-class dive destination. It is famous for diving and snorkeling because of the crystal clear water and exotic marine life. You can sit back and laze around or have a stroll across the 1.5km white sand beach. The food and nightlife at this beach are beyond amazing. Party all night and relax the whole day at Alona Beach
7. Canawa Cold Spring
Bohol has a hidden gem named as the Canawa Cold Spring. It is a magical place that will make your Bohol honeymoon worthwhile. The water of spring is so tempting that you will not be able to resist a dive in it. This mysterious spring is surrounded by lush green trees and the enticing blue water gives the look of a painting on a canvas. The Canawa Cold Spring will surely beat the heat for you.
8. Hinagdanan Caves
The next on our list is the Hinagdanan Caves that has an awe-inspiring natural beauty to it. You will stand there with a dropped jaw when you reach this place. This is one of the many astounding caves in Bohol. It has a history attached to it; hence it will be interesting to go there. There are many restaurants around it, so you can enjoy a meal when you are done touring this place.
9. Dolphin Watching
Dolphin watching is a must on your Bohol honeymoon package. You cannot miss watching the dolphins swim in the gorgeous blue waters near Pamilacan Island. You can view them during your island hopping tour through your resort, or you can book a speed boat for your spouse and you to be closer to the dolphins.
10. Coral Garden (Pamilacan Island)
Bohol is full of nature's gifts and the Coral Garden off the shores of Pamilacan island is one of them. The Coral gardens have been gaining the attention of snorkelers and scuba divers for their abundant sea life and vibrant colours The variety of soft corals swaying in the water are a mesmerising feast for the eyes. It is a must-visit place more marine life lovers.
The South Palms Resort is rated the best among all the resorts in Bohol. It has the most spectacular views of the beach along with impeccable services you can ask for. It has the longest beach in Panglao lined with Palm trees giving you the most exotic look. You can enjoy the swimming pools with the most astounding views of the white sand and blue waters mixing with the blue sky. This is the best experience you can have during your honeymoon.
Discover now the South Palm Resort!
Amorita is a luxury resort that has won an award for being the best in the hospitality sector. It is a secluded resort situated on the top of a limestone cliff giving you amazing seascapes. Loaded with immaculate services and picturesque views; this resort has to be on your list so that you can enjoy the distinct tropical ambience, lavish food buffets, and superb modern aesthetics. A luxurious experience awaits you and your partner at the Amorita resort.
Island View Beachfront Resort
If you are looking for a peaceful hideaway where you can relax in front of the beach and enjoy the natural beauty to the max, then this resort is the right option for you. Enjoy your time at the Island View Beachfront resort where you get to enjoy the coral reef and white sandy beach along with the superb services of the resort. From the rooms to the restaurant and the pool, this resort makes sure you stay happy and comfortable.
Get some impressions of the Island View Beachfront resort now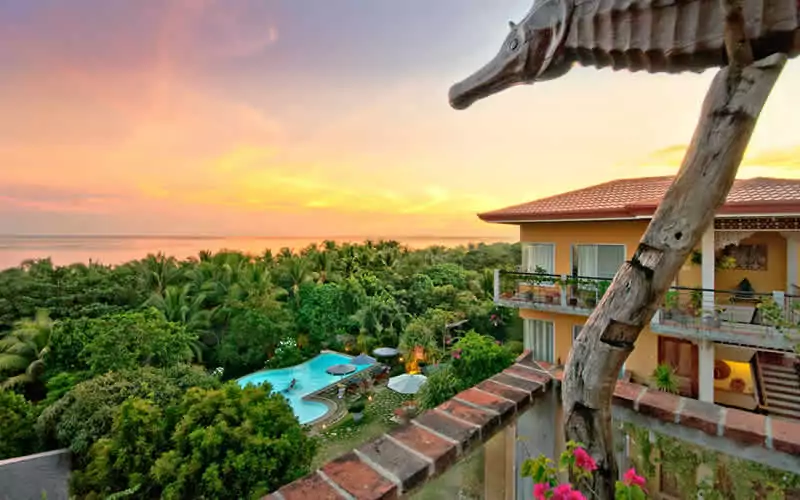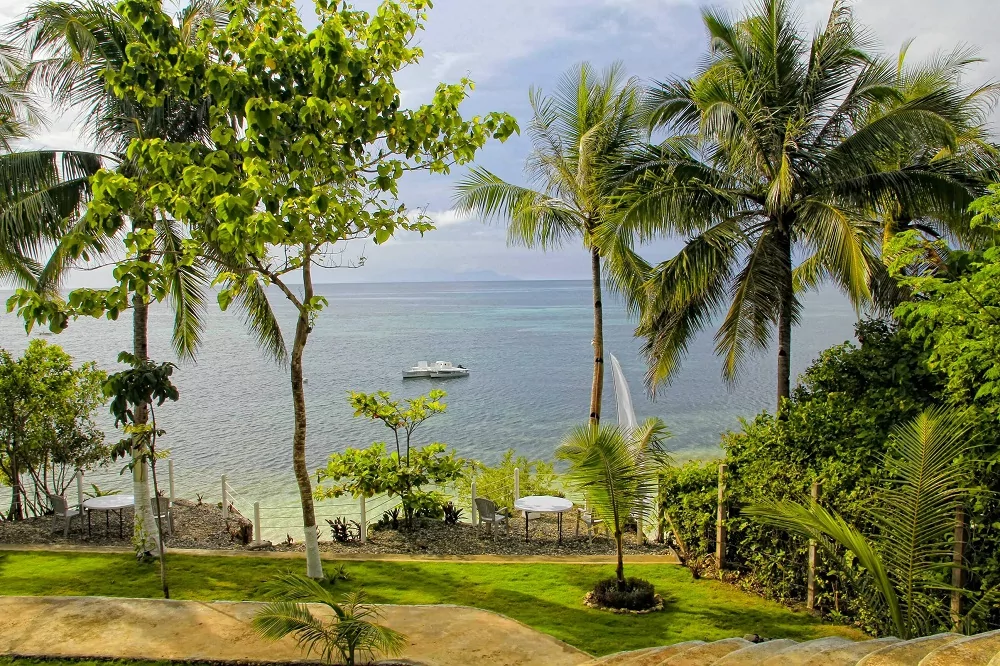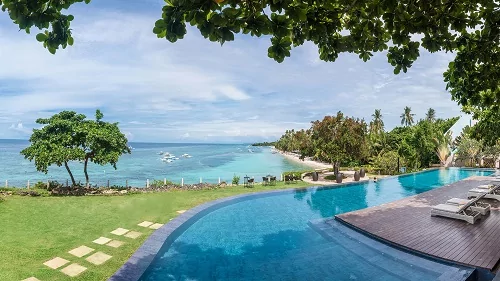 Amarela Resort is a boutique resort in the Panglao Island and a complete package you can ask for while being at a beach resort. The rooms and services are remarkable and the resort is famous for being a destination in itself. They have so much to offer; from a swimming pool to a beach-front location, scrumptious cuisine and exotic drinks. You can get the most gorgeous panoramic view of the Bohol Sea from the beach of Amarela Resort.
While in Anda, you should book J&R Residence for a cosy experience. You will get the best of stunning white beaches and gorgeous blue waters at this resort. Enjoy the delicious food while enjoying a gorgeous view of the beach. You can get a villa, an apartment, a family studio, a garden house, or even a penthouse for your honeymoon. You will enjoy every bit of this hotel while being at Anda.
Discover Your Tailor-Made Luxury Honeymoon
Bohol Honeymoon: Final Thoughts
Your honeymoon is the time which is supposed to be the perfect one when you start your new journey of life. We hope that we have given you a helpful guideline in deciding your honeymoon destination. Choose Bohol and make the best out of your once-in-a-lifetime experience.